kids Sweater Matching Skills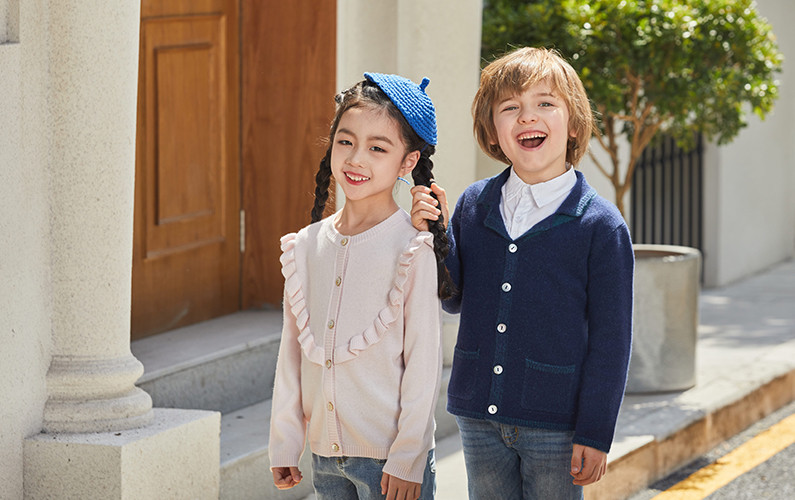 The cold wind was blowing, and people all over the street were wrapped in thick clothes. Have parents started to gradually add warm clothes to cute babies? Keeping warm is naturally the most important, but if you also dress your baby up as a walking ball, that's out! Who says warmth and fashion can't have both?
Speaking of which, many mothers feel that they can't match. If you want to create a fashionable warm baby in winter, a warm
kid's sweater
is definitely an artifact to wear. Let's take a look at how to match a sweater to keep you warm and stylish, and add points to your winter look!
Twist sweater+wide-leg slacks
Recommended reason: The year's hot wide-leg pants and large sweaters are very suitable for babies to wear, both cute and very temperament. The thick twist sweater is very windproof and warm, and the wide-leg trousers made of corduroy can also be stacked to increase the thermal performance. With a pair of white canvas shoes, the fashion sense will be up, and it is really the first choice for winter matching.
Children's sweater+dress
Recommended reason: Every baby girl loves a beautiful dress. In winter, a corduroy vest dress with a close-fitting knitted sweater not only keeps the body warmer but also highlights the temperament of a little girl. Pair it with a pair of simple sneakers for an instant fashion index full score!
Knit sweater+denim skirt
Recommended reason: Knit is paired with denim shorts, and it can be regarded as another successful model in the mix-and-match world. Comfortable and casual knitted sweaters are suitable for little girls to wear, and they exude a warm little girly atmosphere. Denim skirts are not only handsome, but girls showed a vigorous vigor in wearing them, soft and firm, and different sparks collided.
Knit sweater+flared long sleeve striped knit sweater
Recommended reason: The colorful knitted sweater is paired with denim overalls. There is a little cool smell in the sweetness.
Knit sweater+shorts
Recommended reason: Shorts are no longer just for summer. Even in early autumn, the shorts craze is still very active, and the mix of knitted sweaters and shorts will definitely make children shine in early autumn. The fashionable and trendy design, with a looser round neck design, not only facilitates the child's wearing and taking off but also exposes a larger area of the neck. With shorts, the overall collocation is simple and generous.
Knit sweater+jeans
Recommended reason: Knitted cardigan can be said to be a versatile holy product. It can be matched with long skirts and shorts, or you can try it with jeans. The knitted cardigan is generous in style and versatile, and the colors are brighter and fresher. Lively, the child also has a lazy and casual style when wearing it.
A kid's sweater deserves a place in your wardrobe, it's versatile, comfortable, and perfect for fall and winter. If you are planning to buy children's knitwear, welcome to
contact us
.
Camiz is a
custom children's knitwear wholesale
manufacturer in China. We have a modern professional children's knitwear processing factory, mainly focusing on children's clothing manufacturing for many years. We offer children's clothing such as baby, boy and girl jumpsuits, baby suits and sweaters. In addition, we also provide accessories such as hats, headbands, blankets, socks, etc.